News alert: Organic traffic is dead on Facebook. Many brands are leveraging Facebook Ads for their brand initiatives with massive success, but there is still trepidation among marketers around using them. We're here to clear the air on Facebook Ads and debunk seven of the most popular myths below.
---
According to an eMarketer study, 96% of social media marketers considered Facebook the most effective social media advertising platform as of 2016, and since then, Facebook Ads have only risen in popularity.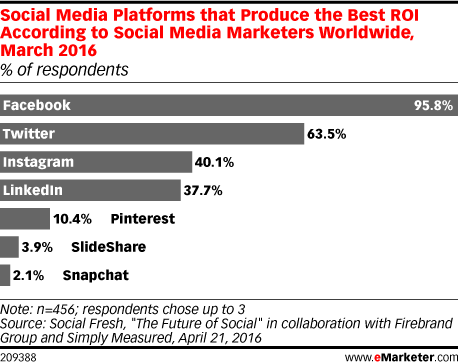 At 2.13 billion users, Facebook currently has more monthly active users than WhatsApp (500 million), Twitter (284 million) and Instagram (200 million). Combined.
Social media advertising budgets have doubled worldwide over the past 2 years—going from $16 billion U.S. in 2014 to $31 billion in 2016.
Facebook Ads continue to be the single best channel for online advertising ROI with minimal spend, period. In fact, you can get Facebook Ads for as low as $0.03 per click.
Whether your goal is generating website traffic, video views, straight conversions, or just to augment your organic search efforts, Facebook Advertising's potential impact on your brand marketing efforts is undeniable, especially for such a low cost.
Worldwide, there are over 2.13 billion monthly active Facebook users for Q4 2017 (Facebook MAUs) which is a 14 percent increase year over year. In case you had any lingering doubts, statistically, Facebook is too big to ignore.
Additionally, Facebook's endless targeting options give access to audiences all over the globe. And whether your budget is $10, $100, or $10'000 per month, Facebook Advertising provides massive value to either B2B or B2C marketing efforts.
However, there's still a lot of confusion about Facebook Ads:
Do they cost tons of money to implement?
Is there still good ROI for Facebook Ads?
Does it really apply to my specific industry?
You've got questions and we've got answers: Check out the eight myths we've debunked below, as well as more details on how you can leverage the power of Facebook Ads to help exceed your business goals!
Myth 1: Facebook Ads Are Costly
Did you know that you probably spend more on coffee than you do some Facebook Ads?
According to Aggregate most Facebook ads cost between $0.20-$0.80 per click on average. In fact, you can get started using Facebook Ads for as little as $10-20 monthly. Facebook advertising isn't just for the Fortune 500 companies – any brand, in any industry, of any size, can leverage Facebook Ads to improve their marketing efforts.
Combined with targeting options, your ads are only shown to the people you want them to be shown to; the audiences that are the most likely to convert or engage with your services, depending on your campaign goals.
Myth 2: Targeting Is Complex
Targeting becomes as complex as you want it to be: you can choose to barely segment the audiences your ads are served to or delve into interests, languages that are spoken, education level, age, work, and more as targeting options.
Did you know that you can even target audiences by life events or political views? 
Within your ad manager, the dial on the right of your page will show you the potential reach of your ads, the audience details, as well as if your efforts are too broad or too specific.
Part of the real power in Facebook advertising comes with Custom Audiences: a type of audience you can create made up of your existing customers. You can target ads to the audience you've created on Facebook, Instagram, and Audience Network.
Essentially, custom audiences bridge the gap between your website and customer data and your Facebook audience in order to drive precision with your advertising efforts.
Myth 3: Ads And Boosted Posts Are The Same
It's not quite that simple: it turns out that Facebook Boosted Posts are actually a type of Facebook Ad, specifically the Newsfeed type, and their goals are primarily to drive website traffic, increase visibility and boost post engagement.
On the right-hand side of your Facebook News Feed, occasionally you'll see a callout box that has a carousel of your best performing posts with the option of promoting them to increase visibility and engagement for your chosen post(s).
Facebook Ad types like Carousel Ads, Video Ads, and App Installs can address different goals other than visibility, including:
App Installs
Website Conversions
Event Responses
Video Views
+ More
You have more options with Facebook Ads in terms of objectives and formats, while Boosted Posts have a limited purpose.
Myth 4: Why Advertise? Why Not Just Post?
Logically, the odds are against organic posts on Facebook, which have an organic reach of about 1%–sometimes less. Accordingly, if your company page has 1000 Page Likes, then only 10 of them would see your post.
Facebook Ads allow you to reach people who don't Like your Page and aren't in your customer data, but have the potential to be – for as little as $10-20 dollars in spend (probably less than you spend on coffee in a week). The leads you attract through Facebook Ads have better odds of being more qualified in nature if you leverage targeting options correctly to segment your preferred audience.
Say for example your Facebook Ad campaign goal is to drive website traffic on behalf of a small streetwear company you run in Perth, Australia for a Black Friday sale: Facebook Ads allow you to target your audience based on locality to Perth, to the age range of your ideal customer (say, 20-30) and the interests of your customers (Off-White™, sneakers, etc.): these unique targeting options generate more qualified traffic to your site and end-users who are more likely to convert on the sale.
From a business perspective, you can't expect stellar results if you're cheaping out on advertising. Additionally, ads let you reach people who don't Like your Page or know who you are, but are interested in the types of things you offer.
Myth 5: You Can Target Competitor Audiences
False: You cannot target audiences who like your competitors Pages on Facebook, which is a strategy many advertisers employ across Google AdWords by making Ad Groups specific to competitor keywords and search terms.
However, you can target people who have similar interests to competitor brands, are in specific locations, or friends of the fans of that page.
Myth 6: Facebook Ads Only Drive Impressions
The first thing any advertiser should do before they begin creating Facebook Ads in a Campaign is to set specific goals you have.
Luckily, Facebook's Ad Manager makes setting your goal fairly simple by enabling you to select your desired goal from your campaign, whether that's actual store visits, brand awareness, or video views. Note: Video Ads perform very well on Facebook, statistically, so Video Views are consistently a high performing goal for most advertisers to have.
Myth 7: Facebook Advertising Isn't For My Business Type
Whether you're a Fortune 500 company or a small startup in a remote location, Facebook Ads can work for you – especially on a low budget. Sure, you could put tens of thousands of dollars into your Facebook Ads per month, but truthfully, you can get started for as little as $10-20 per month, with a CPC as low as $0.10 per ad.
Facebook Ads work both for B2C and B2B companies, and there are a myriad of success stories that show more than 5x increases in marketing results after advertising on Facebook. If you think it's too late to jump on the Facebook advertising wagon, don't worry. There's a continuous growth both in terms of new Facebook users and advertising opportunities.
Above All, Keep It Simple
If you're still feeling overwhelmed, here are the main points to consider:
Have you determined a goal for your Facebook Ad Campaign? Whether it's for generating brand awareness, quality leads, or site traffic, start here and you will know how to target your audiences accordingly.
Who is your core audience? What does your ideal customer persona look like? What interests do they have? Where are they located? The more detail you have on your ideal customer persona(s), the better your targeting becomes, the better your campaign results, and the lower your ad CPC.
Have you clearly defined the actions you want your ideal ad viewer to take upon seeing the ad? Is it simply video views or driving conversions on a contact form? Is it brand awareness or an app install?
Are you leveraging the power of Custom Audiences in order to bridge the gap between your historical customer data and your Facebook Page following?
Split-test your creative and experiment with the best ad formats that work for your goals.
Happy hunting! If you have any questions or comments on your biggest Facebook Ad myths, feel free to send us a message. We speak everything ad-related and are happy to help. 🙂