The things about landing page optimization they NEVER tell you in band camp.

Catchy headline that has your company specific keyword, displayed at the top of your page?
Check.
Blog posts that follow the top-bottom sales funnel of marketing, leading to either soft-hard conversions?
Check.
Brilliant UX/UI on your page that'd make Google or Shopify look like chump-change?
Check.
Scalability that appeals to the mobile-minded generation?
Scal-a-what?
You can Google "best practices for landing pages" or "landing page optimization" and you'll get the same information that everyone else does, period.
What we're here to tell you, is about those little, ridiculously tiny details that make all the difference when it comes to people visiting your wonderful website.
We're about trust, and that said we're all about conversion coupling (which isn't some weird, Back to the Future type of stuff for landing page optimization).



We're hoping that your landing page experience is just that–bonded to and as beautiful as your branding, logos, content, colourways and overall brand design.
So without further ado, here are a few secret keys to landing page optimization that are small secrets with a huge impact for lead generation, conversion and brand cohesion.
Landing Page Optimization – To Scale
To be crystal clear, one of the biggest misses within any landing page is scalability, which is the ability of a landing page to load and scale accurately to your mobile phone, tablet, and other devices.
As mentioned in our Mobile Revolution's post, the stats on mobile phone usage are staggering; out of a 7.3 billion global population, there are 3.65 billion unique mobile users. 1.91 billion of those users have smartphones, and eMarketer predicts that by 2018, half of the world's mobile users will have smartphones.
Scalability refers to many components of the system, from the amount of traffic it can handle at one time, storage capacity, and more. Ensure that your UX/UI is up to speed (literally) for your mobile and other devices; check that your landing page elements are loading quickly, and effectively.
Smaller screens mean that certain banners, information, etc. are compressed in size and might display differently.
As a side note: how often do we think about landing page optimization from the outside? The goal of a well-designed landing page is to attract the right customers, encourage conversions, generate leads, improve traffic rates, lower bounce rates, and more.
Additionally, you're hoping that your landing page can rank fairly high on SERP's, especially Google. That said, why not try and improve your site's SEO ranking with Off-Page SEO?
Off-Page SEO refers to all of the elements that improve your landing page's SERP rank, outside of the page itself. This includes reviews for your services/products on sites like Yelp, Yahoo, Bing and other review pages, as well as having as many inbound links from other sources that lead back to your desired landing page.
Inbound links can be found on partner websites, various social media platforms, review pages, sponsored posts, etc. The more, the merrier (your landing page and SEO).

As you're reading this, consider the following two statements:
"Our services can save you up to %20 on your car insurance."
Or…
"We're glad you wanted to learn more about our services that can save you time, money and hassle. Let's talk."
Which one jumps out to you more? Which one made you feel like an individual person, and not a generic viewer? In regards to advertising, headlines and body copy in general on your landing page, a personal approach is best.
Creating the type of dynamic, personalized experience that you'll find on landing pages from Shopify, Mailchimp, Marketo and Netflix's sites–you strengthen the developing relationship through you and consumer, via. trust.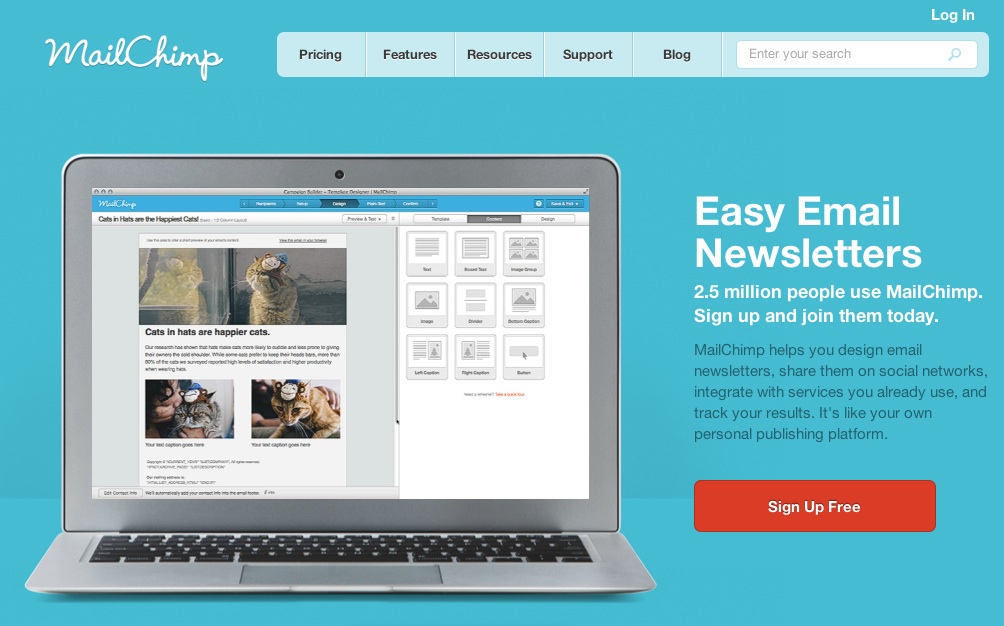 And hey, if you don't believe us–do the testing on your copy with a personalized touch vs. a feature-driven approach that many landing pages take. Regardless, always test your copy to see how it's performing!