It's Monday. Are you ready to convert?
And by convert, I'm talking about having users clicking on your ads, and then following through with your sweet page and services so that you make sales.
Which in a dream world, would look like this:

And make you feel like this: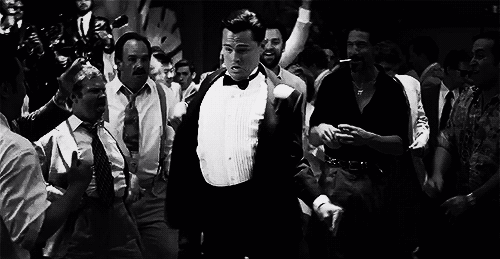 The Low Down On Conversions
Now, impressions on advertisements are great, and so are comments, likes, and re-shares of ads.
But at the end of the day, if an advertisement doesn't lead to any action in terms of the viewer following through with your services, you're only a quarter of the way there.
Conversions are just that – consumers and page viewers clicking on an ad that provides an effective call-to-action that leads them to make a purchase or follow through with your ad's intended goal.
And the key to conversions? Higher Click-Through-Ratings.
Simply put, your Click-Through Rating or CTR for short, is the number of clicks your particular ad receives per number of impressions; mathematically, it looks like this:
(Total Clicks on Ad) / (Total Impressions) = Click-Through Rate
Aside from higher conversions, a higher Click-Through Rating is important for a few other reasons:
1. Higher CTR gives you a higher Quality Score.
2. Higher CTR helps you maintain the same quality of advertisement for a lower cost; more $$$ saved for ad budgeting!
3. Improvements in CTR can help you understand which keywords are performing at their best to generate ad clicks and impressions, and adjust landing page copy accordingly.
Essentially, having a higher CTR for your advertisements not only encourages viewers to engage with your services, but directly improves your ad quality score, ad budgeting, and overall $$$ made from sales.
Not bad, eh?
However, this leads us to the simple question:
How do we increase the Click-Through Rating for our ads?
Killer Design, Great Copy, Great CTR.
In terms of achieving a high CTR, it comes down to advertisements being intuitive, having a clear call to action that leads to a sale, but mostly having a great aesthetic to your advertisement, and great ad copy with integrated keywords – words that are relevant, and likely to be searched!
But before we go through that, let's establish what a good Click-Through Rating is as a goal to shoot for:
For competitive industries, most experts shoot for a CTR of around 2% average to 5% on the high end.
For non-competitive industries, 5% and above is the standard.
On social platforms like Facebook, people are there to socialize; the CTR's are on the low end, usually from 0.05%-1.00%.
For a banner ad, CTR is usually 2%.
In terms of email marketing, the CTR is much higher – around 10-20% (and even more for messages that are personalized to consumers, retailers, etc.)
Ever heard the phrase "Content is King?"

In the world of advertising, an ad's design, colourways and typography can be on point – but your actual content is what makes or breaks it.
Regarding CTR, having great content behind an ad is the #1 step to increasing it! Be sure to review your ad copy and content to ensure that it is relevant, timely, creates a strong call-to-action and provides a service/product of use to viewers!
Above the content matter itself, ensure that your ad copy is SEO optimized like there's no tomorrow. Having the right keywords ensures that your ad is likely to be searched, rank higher on Google for better accessibility and have a better quality score!
And on that topic, ensure that you research the negative keywords to steer clear of as well. Utilize the power of Google AdWords to search which keywords are relevant to your services, and then test your ad copy with Google Analytics to determine which words are performing best on what days, weeks, hours, etc.
Constant content revision and the measuring of key metrics is the gateway to increasing your CTR, and overall conversions.
Partnered with great SEO optimized copy, ensure that your ads use captivating images that are clean, well composed and of course, of high quality to visually appeal to viewers! Go off the deep end; use images that are unique and match your unique services, and get consumers talking – one way or another.
Say for example, if your ad is about ice cream. Which The War Room HEAVILY co-signs: 
And on the note of capital letters and grammar – write the new rules! You're writing advertisement copy, not a letter to Obama. Certain rules of grammar can be loosened, and capital letters are encouraged to grab viewer attention.
With the right headlines and ad copy, a clear image is key to generating viewer interest and having them engage with your ad. Ensure that your ad images are of the right resolution and sizing, and that they of course aren't blurry. No one likes blurry images. Not even Leo.
Additionally, be sure to check out the competition for keywords used in ads and image types and above all, get creative with ads to increase your CTR! With great individual keywords, relevant keyword associations and well-balanced ad design, better ads will lead to a better CTR that has viewers converting and engaging with your services.