How Gen Z Is Re-Defining Digital
They're mobile-minded, YouTube obsessed, and probably confused by your CD collection: Generation Z is not to be taken lightly as the next wave of digital consumers with $40 billion in purchasing power.
Just when you thought you got a handle on millennial marketing, eh?
You spent all this time learning about Spotify, and Shopify, the differences between Tinder and Bumble, how Apple's "Airdrop" feature makes lives easier, why so many people love Rick and Morty, what we could learn about digital marketing from the launch of Tidal, and the hundreds of other digital nuances that make marketing to millennials a very specific process.
…only to realize that there's a new generation of consumers who are even more digitally-oriented than their older siblings: Generation Z.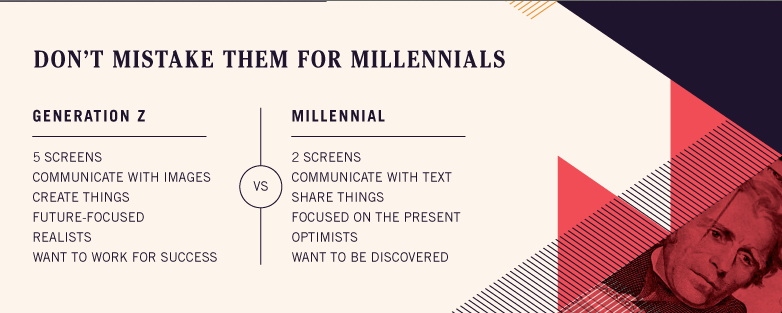 And with the differences in the generations comes a myriad of best practices required to effectively communicate with them; annually, Gen Z has a purchasing power of $40 billion – that's right, billion – and by 2020, they're expected to account for 40% of the purchasing consumers in Canada.
Gen Z, along with their digital habits, is evolving faster than you can say the words "fidget spinners." If you want to maintain your company's bottom dollar and keep your profit margins steadily increasing, Gen Z is the generation you need to be learning about – and fast.
Luckily, we've got you covered – as always. Namely, because we care, but also because we looooove fidget spinners (so does our office cat, Bella). Here are 7 essential points to consider when marketing to Generation Z in order to nail your messaging when it comes to marketing, because nowadays – first-impressions are all we have, especially with this generation.
While millennials are considered digitally savvy, Gen Z is the first generation to grow up with technology from the very beginning; while millennials have a unique viewpoint of the world pre and post digital, Gen Z is born into a world of iPad, apps, and more within the digital realm from the start.
As a result, segmenting your audiences across AdWords, across Facebook Ads, Snapchat Ads, and more is of the utmost importance; while Gen Z represents 40% of the potential buying power by 2020, there's still the other 60% which is comprised of millennials and the generations beyond, who receive information in unique ways.
91% of Gen Z'ers get their first mobile device before age 16; as a generation, Gen Z'ers are even more mobile-minded than their older millennial siblings. As a result, it's even more important to ensure that your landing pages, advertisements, and other brand communications are formatted for the best mobile experience possible.
For example, think about how your Expanded Text Ads appear to Gen Z; as a generation that reaches to Google first for all their searches and many of their purchasing decisions, ensure that you take advantage of things like callout extensions and sitelink extensions on your ads to ensure that Gen Z's path-to-purchase is as easy as possible.
Gen Z makes decisions fast. In terms of your mobile-experience as a company, you need to be faster. Gen Z are experience driven and care immensely about genuine brand engagement, so make sure all channels of your advertising are reflective of conversations, not sending content at Gen Z.
Case-in-point: Taco Bell's Twitter account. It's hilarious. It's not just something consumers taco-bout', but engage with: as a fairly large organization, Taco Bell has successfully humanized their brand persona to amass over 1.87 million Twitter followers as a community of users that speak back and forth with the brand and each other – far more than competitors like Burger King, Wendy's, etc.
They sell the same type of product to consumers, but how they present their message is entirely different.
The same concept applies to your brand when it comes to Gen Z'ers – ensure that your messaging, across all channels, is succinct and segmented correctly!
Open-Minded, Culturally Aware
Compared to every other generation, the accessibility of information from a pop culture, social, and political landscape is higher than ever. Gen Z knows what changes are happening to the government, Snapchat filters, sneaker and fashion trends before you can even finish writing that Tweet you had scheduled for later today.
An example of this would be clothing companies like Peace Collective, who donate a portion of their proceeds to the Breakfast Club of Canada, which provides Canadian children with healthy meals while at school. In fashion with TOMS' "Improving Lives" initiative, Gen Z is attuned towards brands who are socially conscious.
For you, that doesn't mean you have to become the Dalai Lama. At the very least, you can use your company platforms to speak on events and cultural shifts that are relevant (key word being "relevant") towards your industry (ie., this hilarious "Tiny Hand Soap" meant for "dirty politics").
They're Digital Natives, But Their Parents Aren't
It's estimated that up to 80% of Gen Z's decisions and needs influence the foods and products parents buy, which brings up another point: Gen Z have parents, friends, and older siblings, too. Therefore, the decisions and buying habits Gen Z has can and will influence the purchasing decisions parents can make.
Especially when it comes to the food and home product industry: up to 70% of home food choices are influenced by Generation Z needs and up to 70% of Gen Z'ers prefer YouTube to any traditional cable TV, which brings us to another point…
Social.  Media. Influencers.
Do you know what Casey Neistat did on his latest vlog? How about Ben Brown or Lilly Singh? Your Gen Z counterparts sure do.
In this day and age, Gen Z'ers primarily rely on YouTube, Instagram, and Snapchat as their mediums for news, media, and entertainment; Gen Z spends 3+ hours on mobile watching video – more than any other activity. All considered, your extra dollar in your ad budget might not be best spent on PPC or print ads among Gen Z, but rather towards partnerships with social media influencers that really impact Gen Z's decision-making process as leaders of the new, the trendy, and the engaging.
Take Ben Brown, for example: a famous photographer, videographer, and YouTube vlogger who makes a full-time living off all of the aforementioned.
Advertising and brand communications either through or with a social media influencer are seen similarly to that of a native advertisement: providing genuine value to the end consumer and not interrupting their UX.
All in all, advertising towards Gen Z as a demographic should really be communicating – not advertising
For more information on how Gen Z operates within the digital world and how you can better communicate with them, check out some of Google's Insights in a guide entitled "It's Lit" (trust us…it is). And for more on how digital media buying differs within Gen Z for your company, visit the War Room's site.
  As we close the doors on 2017, we don't need to throw away the key entirely: here are the top digital insights we made last year you can use to succeed in the 2018 digital landscape – whatever your role or company might be. Editor's Note: Positivity reigns supreme,...