If you have run a Pay-Per-Click (PPC) Search Campaign on Google Ads, you most definitely had to choose a "Keyword Match Type".
There's no doubt it can be tricky and confusing.
As a business owner, your hope for Google Ads campaigns would be to show up for people who are actively searching for a business like yours with high intent to convert.
But how do you know if your keywords are working? Which keyword match type is right for you?
Note: There were a few updates in 2021. Click here to jump to this section.
Google Search & The Importance of Keywords
Did you know that Google processes 40,000 search queries every second? That means a whopping 3.5 billion searches a day!
This is why brands are working hard to nailing their keywords to serve their Search Ads to their target audience.
For PPC Search campaigns, you choose a goal: Sales, Leads, or Website Traffic.
Then create specific keywords and ad groups, set your target audience and budget, and start advertising. Of course, you then monitor and optimize your campaign as it runs and tracks your progress.
When running Paid Search campaigns, you only pay when someone clicks on your ad. Therefore, it's crucial to have fine-tuned keywords relevant to your audience and not have an overly generic keyword that people might click on and waste your advertising budget.
Let's say you're a company that sells wine glasses. You don't want people looking up "prescription eye glasses"  to click on your ad as you will have to pay for each click, relevant or not. That's why there are different keyword match types to choose from to best optimize your coverage.
Keywords are specific words or phrases which advertisers use to predict and match the term people type in the Search Engine when searching for a product or service, which then serves relevant ads to them in the search results page.
The Match Type examines how accurate and relevant the keyword matches a person's search query, then determines if it qualifies for online auction. Advertisers will use the different matching options to deliver a variety of user searches. Let's take a look the different types below.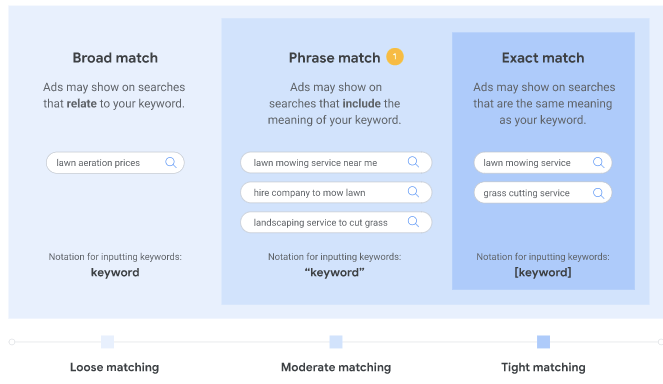 Board Match is the default type for all your keywords unless you specify any other options.
If you set it to this, ads might appear in search results related to your keyword, even if it doesn't contain the actual phrase.
Some reasons to choose this option would be:
it helps with a broader audience reach
driving more people to your website
save time on building more intricate keyword lists
a simpler ad budget structure


Here's Google's example of how a Broad Match Keyword would work: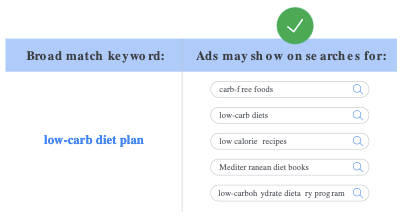 According to Google, Broad Match Types also takes the following into consideration:


The content of your landing page
The user's recent online search activities
Other keywords in your ad group to gauge keyword context


Google doesn't recommend using similar keywords like "blue coat" and "coat blue" because they would be recognized as duplicates, and whichever one has a higher Ad Rank would be chosen.
Under Broad Match, there is "Broad Match Modifier". These ads are shown if the keywords appear in the user's search query if they are exact, or in a close variant form.
Keywords should be highlighted with "+" to showcase that they need to be part of the search query to show up. The only time the ad wouldn't show up would be synonyms.
Update: July 2021
As of July 2021, Google Ads, Microsoft Advertising and Yahoo! Japan are phasing out Broad Match Modifier. Some of the behaviors of Broad Match Modifier are going to be added to Phrase Match type instead.
Be sure to check with your advertising agency if there's anything you need to do on your end for this change.
For War Room clients, we have changed how we process the broad match modifier function in keyword templates in inventory campaigns, and will now generate a new phrase match keyword instead of a broad match keyword. You won't be required to make any changes to campaigns, we will do that for you.
Phrase Match Ads will appear to people who use the exact phrase (or close variants) you specified in your search term.
Compared to Broad Match, Phrase Match is a level more targeted but is a step more flexible than the exact match. Advertisers get to control how close a keyword matches a person's search term for their ad to appear.
Close variants can count as: misspelled words, single and plural forms, abbreviations, stemmings (like: fix and fixing), paraphrases, synonyms, and other keyword terms that might share the same meaning.

Negative keywords are used to exclude your ads from showing on search results you don't want, which saves you money on irrelevant ad clicks.
An example would be: you are a shoe company that doesn't sell dress shoes, you can add a negative keyword for dress shoes.
Here is a detailed example of different Negative Keywords that fall under each Match Type:


The Relationship Between Keywords & Landing Pages
If someone looks up a specific keyword and they click on your link, they expect to find what they are looking for. So no matter what keyword match type you choose to use in your PPC search ad campaign, it's important to serve your audience with highly-relevant content and information of said-keyword. With so many search results out there, you need to make a good impression with your landing page.
BERT is Google's neural network-based technique that handles natural language processing. It helps Google discern the context of search query words, and understand the user intent behind the queries and properly match keywords.
Search Engine Land says BERT is useful when it comes to Broad Match Keywords.
Google uses an example:
"A highly specific query like "1995 5 speed transmission seal input shaft" is now able to match with the broad match keyword "auto parts" because we can tell they're related, even though none of the words in the query and in the keyword actually match."
Pretty neat, right?
User Search Queries Identical to Your Keywords
Google had announced earlier in 2021 that they would expand Phrase Match to include Broad Match Modifier traffic.
They had said that Exact Match keywords are identical to a query and will be prioritized. Broad Match and Phrase match keywords will now follow the same rules.
Here's an example:
Let's say a user searches for "bubble tea delivery near me".
You have the Broad Match keywords: "bubble tea delivery" and "bubble tea delivery near me".


Before this update, both keywords would be served.
Now with the new update, Google will prefer (and prioritize) the keyword, "cupcake delivery near me" because it is identical to the search query. If you have an eligible Exact Match keyword identical to the query, it would still be preferred over the Phrase and Broad Match keyword.
What if a User's Search Isn't Identical to Any of My Keywords?
Before the 2021 update, if advertisers had multiple keywords eligible for matching, but none were identical to the user's search, your Ad Rank would be the determining factor as to which keyword would be served.
Now, to determine which keyword to select, Google will take into consideration of relevance signals, alongside your Ad Rank. To determine relevancy, the meaning of the search term, the meaning of all keywords and landing pages in the ad group would be evaluated.
Google breaks it down into this table: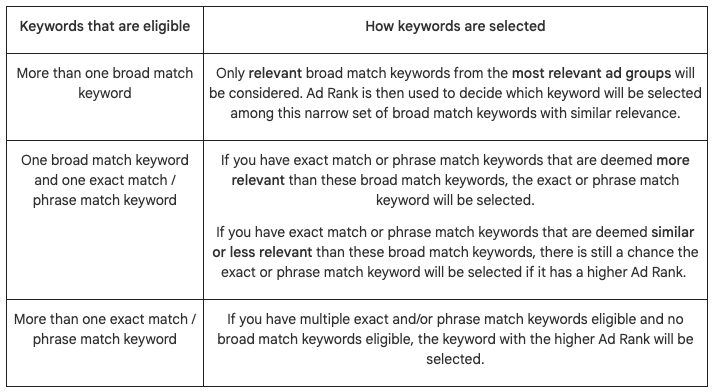 To apply this in example:
User looks up "quick pizza delivery near me".
You have the Phrase Match keyword, "fast pizza delivery", and Broad Match keyword, "food delivery".
The Phrase Match keyword would be chosen to be served because it's more relevant, even if it might have a lower Ad Rank than the Broad Match keyword.


Google recommends to organize keywords into ad groups that are thematically consistent. The example they use is a food delivery business:
The most popular search terms are "burger delivery" and "pizza delivery".
Google suggests creating 3 separate ad groups with different ad creative and landing pages:

Fried Chicken Delivery
Pizza Delivery
Food Delivery

This would cover more ground while serving more relevant ad content to users searching for you!