A fluid, organized, and effortless customer journey is everything when it comes to generating revenue for your brand or company, and it always begins with the exact same thing: turning a prospective customer into a lead.
In 2017 especially, the advertising atmosphere can seem overwhelming. With so many platforms and constant advertising updates to boot (well sometimes, reboot), we have more options than ever before to generate high quality leads. Where do you start if you're a beginner? Where and how do you revamp your efforts for better lead gen and conversions?
If we're talking about lead generation and ads that convert, then we're really talking about Facebook lead ads, kids: cheap, effective, and complete with targeting options that allow you to pinpoint potential customers with precision.
As we've mentioned before on the blog, Facebook lead ads are one of the cheapest and most effective ways to generate traffic to your website; when implemented correctly with the right copy, formatting, and visuals – these ads have the potential to seriously convert droves of consumers at a minimal cost for a roomier budget.
Speaking of rooms – did you know that Airbnb achieved massive conversions off Facebook Ads in their "Live There" campaign?
This case study reveals that the Airbnb team used Facebook carousel ads displaying interesting experiences travellers had worldwide through the use of their platform. Whether it was photos of a room overlooking the mountains in Vancouver or someone fine dining at a cafe in Sicily, these Facebook lead ads made viewers want to pack up and travel – but not before clicking through to Airbnb's site.
Specific to Facebook lead ads, take this case study on Thinkful, an online coding school, for example: to encourage potential customers to engage with the service and skyrocket their lead volume threefold, Thinkful implemented a series of Facebook lead ads the led to:
2.7X increase in leads
2.5X increase in revenue
44% engagement with Thinkful advisors 6% increase in sales

When it comes to Facebook lead ads, they work for you–but only if you work for them, and we're about to show you 5 ways how you can make your Facebook lead ads convert FAST.
Take Advantage of Custom Targeting
When it comes to Facebook lead ads – or any ad for that matter – custom targeting helps to significantly improve the likelihood of sub-groups within your target demographic to convert based on a number of custom variables: gender, age, interests, and more!



From the get-go, Facebook lead ads already do some of the work for you; by using the information Facebook already has available from your account, the form fields in lead ads already have your name, email, and potentially phone number pre-populated.
Combined with Facebook ad targeting that allows you to direct your ads to specific groups of highly engaged people, this increases the likelihood of conversions.
By using the Ads Create Tool in your Facebook Business Manager, you're able to geo-target customers by city radius, exclude cities from your ads, and target by age, gender, education, work, even someone's relationship status. Additionally, Facebook Lead Ads allow you to target by interests, behaviours, and more; notably, you're able to create custom audiences and remarket to people who've visited your website previously.
For more information, check out Custom Audiences and Lookalike Audience options that Facebook Lead Ads present!
Create Smart Lists of Contacts
Guess what? You can easily connect Facebook Lead Ads to your Hubspot CRM in a few simple steps; from the Smart Lists made among your Hubspot contacts, you're able to create Custom Audiences based off the contact information you've already collected.
Smarter lists mean smarter retargeting and smarter conversions.
When it comes to other lead gen ads, many of the best practices for them also apply to Facebook lead ads–especially the importance of ad scheduling!
Depending on the nature of your business, your potential customers are more active at specific times and less active during others. One of the keys to efficient ad spend and ROI on your lead ads is precise ad scheduling for the times that your target demographic are the most active!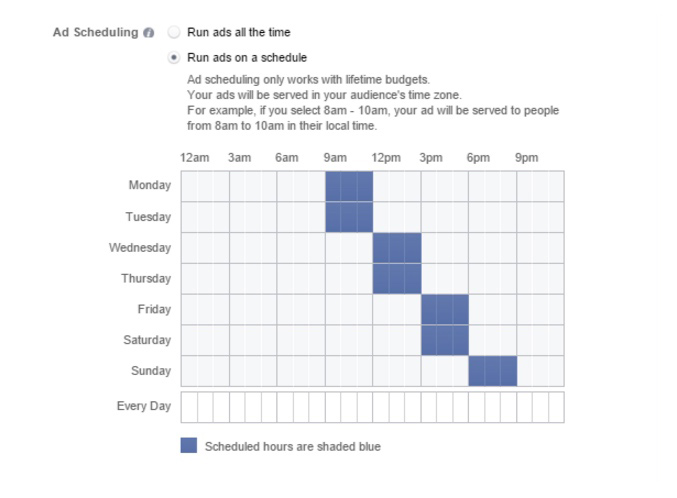 For the times you can't follow up on a lead, Facebook's ad scheduling ensures your ads aren't up and running–saving you time and money. Pausing underperforming ads can also be a great way to maximize on the ads that are performing, and split test the reasons as to why to maximize the effect your future ads have on conversions and CTR.
Strong CTA, Strong Results
Combined with pre-filled form fields, Facebook lead ads have six call-to-actions that drive people to convert, including:
Sign Up
Subscribe
Learn More
Apply Now
Get Quote
Download

Depending on your form and ad goals, choose your CTA wisely to ensure that your CTR is as high as possible to drive traffic to your website.
Killer Copy + Incentive = Fast Conversions
With the CTA's previously mentioned, they all rely on strong, simple, effective copy to guide your potential customer to them, and eventually your site for conversions. Between the click-through and the form fill, your copy should be clear enough to guide users fluidly to your CTA! Paired with a compelling visual, great copy and ad design will seriously help to improve your ad's conversions; but that's only half of the equation…
Ever considered adding some extra incentive for clickthrough? By incentivizing your lead-ads with a coupon, that makes the buy-in for a consumer much easier. Whether it's a coupon, free white paper, free consultation or quote, etc., incentives can be the finishing touch that drastically improve your ad CTR when combined with clear copy.


So there you have it! Facebook Lead Ad best practices in a nutshell. Do you have any best practices you use for your Facebook Lead Ads? Be sure to let us know in the comments below.
Happy advertising!