Within the ever-changing landscape of digital content marketing, you've probably heard the term native advertising thrown around in recent marketing trends as a standout from traditional display advertising.
And if you're with it, you've probably read up on how Vince and the gang from Entourage can teach you everything you need to know about it.
In 2015, our BS detector is at an all time high thanks to all of the ads we're exposed to on a daily basis. That being said – traditional forms advertising (think big, in-your-face ads) are rapidly fading.
In fact, Online Media Daily estimates that 60% of consumers can't even remember the last ad they saw!
I mean, can you?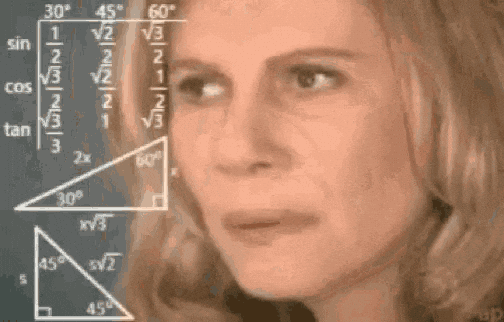 Native advertising has a bright future in the world of digital advertising, with an anticipated 21 billion dollars being spent on it come 2018. In the past year, you've likely been exposed to hundreds if not thousands of native ads without even being aware of it.
And if you're up to date with recent news, you might have noted that Marissa Mayer, CEO of Yahoo circa 2012 used the power of native advertising to completely revamp their success as a company in 45 days. Well, 43 to be exact – find out more from the editorial done by Fast Company on the story, known as Project Moneyball.
How do we define native advertising?
Sharethrough defines native advertising as:
"…a form of paid media where the ad experience follows the natural form and function of the user experience in which it is placed."
Native advertising is paid, sponsored content.
The key to native advertising is subtlety. Appearing as in-stream content, native ads are seamlessly integrated into editorials and have a much higher likelihood of being shared, with a much higher click-through rating.
The best kind of native ads are unobtrusive; the beauty of them is that they do not interrupt the user experience because they are integrated into the editorials themselves.
Native ads frequently appear as "Sponsored posts" or "Paid posts" that appear in Facebook feeds, Buzzfeed articles, etc. Companies like General Electric are especially great with making these posts seamless, which we'll touch on later in the article with an example of native marketing that they absolutely nailed.
Native advertising has been on the uprise in recent years, because the click-through rates and engagement are much higher than traditional advertising.
By Wordstream's deductions:
Almost half of consumers have no idea what native advertising is
Of those consumers who do, 51% are skeptical
Three out of four publishers offer some form of native advertising on their sites
90% of publishers either have or plan to launch native advertising campaigns
41% of brands are currently using native advertising as part of wider promotional effort
With that being said, here are a few examples of companies that absolutely nailed native advertising:
General Electric x Supercompressor – "The Lunar Footprint"
Thrillist partnered with GE to celebrate the 45th anniversary of the moon landing. The result? Great articles on their tech/space site, Supercompressor, and a great partnership.
With titles like "10 NASA Technologies We Use Every Day" and more, these articles and headlines were not only engaging, but notice that in the article below, the usual "Sponsored Post" or "Paid Post" is replaced with the phrase "Imagined by GE."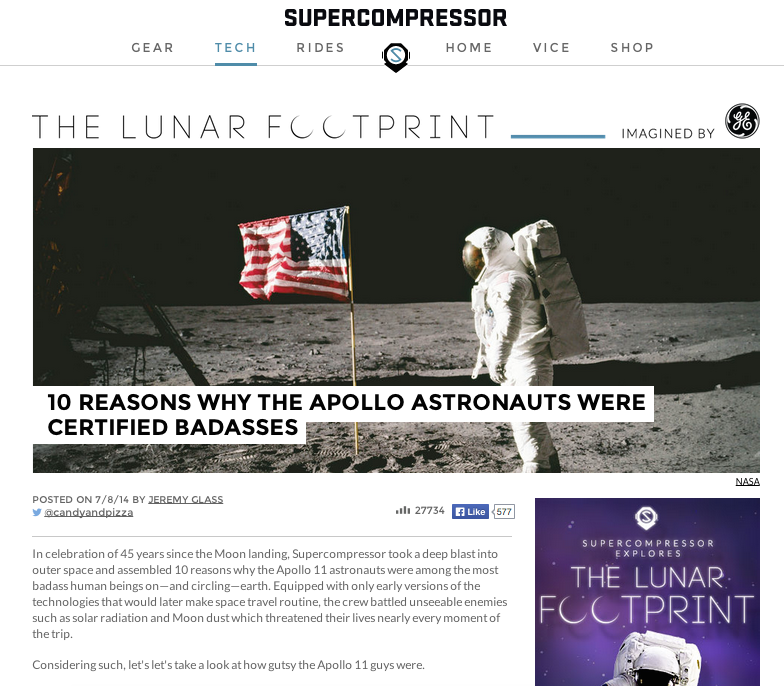 Seamless, and easy to navigate by the user while augmenting the user experience. It's native advertising done right!
Because of this collaboration, there was a much higher awareness of the 45th moon landing anniversary, which otherwise might have gone more unnoticed. Secondly, this partnership allowed GE to position themselves as leaders in tech.
As a part of an overall branding and content strategy, this partnership works beautifully for both ends; GE even released sneakers on Jackthreads (Thrillist's fashion and ecommerce site…have you seen their watches?) and they sold out in seven minutes flat.
This partnership resulted in a great pop-up experience that was successful for both parties, made for some killer content (ie. 10 Reasons Why The Apollo Astronauts Were Certified Badass) and set a great example for future native advertising endeavors.
SB Nation x Nike – "First & Long"

Presented by Nike, First & Long is a collaboration that involves a video series illustrating the impact of six NFL athletes on students, by having them visit high schools and drop some knowledge.
In terms of interactivity, First & Long is brilliant. With easy user navigation and seamless transitions from one video to the next, there's even an option to get a "pep talk" from one of the players in text format to get you motivated.
Within native advertising, this collaboration makes total sense due to Nike's heavy history and involvement in the sports world, and only serves to boost their image as a brand for every athlete around the world. 
Mashable x Mastercard – "Mobile-Minded"

Are you in a relationship with your smartphone?
It's okay, we won't tell anyone.
Mastercard teamed up with Mashable to launch "Mobile-Minded," a look at the complex relationship we've developed with our handy smartphones.
This fresh view on our relationship with technology helps to craft Mastercard as less of a credit company, and more of a lifestyle, credit and tech establishment that wants to maintain great consumer relationships.
With immersive data visualizations and well designed info graphics, this collaboration represents the power of native advertising in augmenting brand images, and also to act as informative pieces on pressing subjects.
Plus, they get points for referencing the movie "Her"—the movie that beautifully questions our relationships with mobile devices.
If these ads prove anything, it's that the future for native advertising as a seamless method of communicating sponsored content is bright.
With the ever-evolving landscape of digital content marketing, native advertising is a standout among the traditional ads of yesterday, offering an unobtrusive manner of communicating information about tech, lifestyle and more in an engaging manner.