As we close the doors on 2017, we don't need to throw away the key entirely: here are the top digital insights we made last year you can use to succeed in the 2018 digital landscape – whatever your role or company might be.
Editor's Note: Positivity reigns supreme, especially with your customer experience.
Before we begin anything: HAPPY NEW YEAR!
Like you, we don't believe in the fluff of resolutions which go unaccomplished. We're about goals – in life and in Google Analytics – that are tangible, that are met, and informed by data-driven decisions.
With that in mind, we can confidently say that 2017 brought us a slew of digital insights from our work with various clients across a wide range of verticals. With New Years and digital marketing in mind, there's no reason to throw away the champagne with the cork as we ring in 2018. Why not use some of our insights to propel your digital success in 2018?
We're about to toast to the top lessons we learned in 2017 on marketing to Generation Z, proper copywriting techniques for direct-response conversions, the power of digital assistants, and more that you can use to propel your digital advertising goals in 2018.
The Power of Generation Z
Generation Z is more digitally savvy than any other, better connected, probably never watch cable television and always watch Casey Neistat. Essentially, 2017 taught us and the rest of the digital world that they are setting the tone for how to make efficient digital buying decisions and where attention is being directed in our fast-paced digital world.
91% of Gen Z'ers get their first mobile device before age 16.
With $40 billion in purchasing power alone, 2017 taught us that Generation Z truly is the tipping point of mobile-minded decisions and digital culture. Now more than ever, Gen Z has the expectation of finding the information relevant to their interests FAST, which is why 2017 also taught us the immense importance of great mobile experience across the board for Gen Z and their older siblings.

Here are a few statistics to consider about mobile-experience from Google's think tank:
Gen Z spends 3+ hours on mobile watching video daily.
Nearly 2/3 smartphone users are more likely to purchase from companies with mobile sites that customize information to their specific location.
3/4 smartphone users turn to search first for their needs.

Specific tips from 2017: Be sure to retarget Gen Z with ads that display well on mobile, ensure your Google business profile has all the requisite information filled out for easy consumer access to your phone number/location through quick search, and that your expanded text ads on Google take full advantage of callout + site link extensions.
The Rise of a Digital Assistants
Alexa, tell me why 1 in 3 travellers across countries is interested in using digital assistants to research or book their trip?
Whether it's Alexa, Google Home, Siri, or Cortana (Microsoft's virtual assistant…not Master Chief's AI in Halo, you nerd), voice-controlled, intelligent digital assistants aren't just the future – they're now. 2017 showed us truly how much digital assistants are playing and will play a role in all of our lives for years to come.
And speaking of Cortana, did you know that it's being used to control thermostats? Also, have you met…Vee?
As a consumer, digital assistants are helping with everything from home automation to booking travel and more.
It's not just about asking Siri what the weather is today.
As a marketer, it's in your best interests to look into either incorporating digital assistants into your business as tools of efficiency, or studying how your customers will use digital assistants to find your business. It's up to you to ensure your business is indexed in as many places possible for the best paid and organic rankings for users to easily find you – or Alexa.
If 2017 proved anything, it's that attention was a beauty in the eye of the YouTuber; 86% of the top 200 beauty videos on YouTube were made by creators, which strikes quite the conversation about branded vs. professional content. 1.5 billion people visit YouTube each month.
Again, 2017 taught us that not only Generation Z, but everyone else watches traditional TV much, much less, which is why paid YouTube mobile advertising is 84% likely to receive viewer attention than TV.
These two points go hand-in-hand: for example, if you're a beauty company struggling with engagement among your younger demographic – a primary one for your industry, at that – ages 16 – 21, consider the fact that certain elements of your ad spend and efforts on traditional media might not be as effective.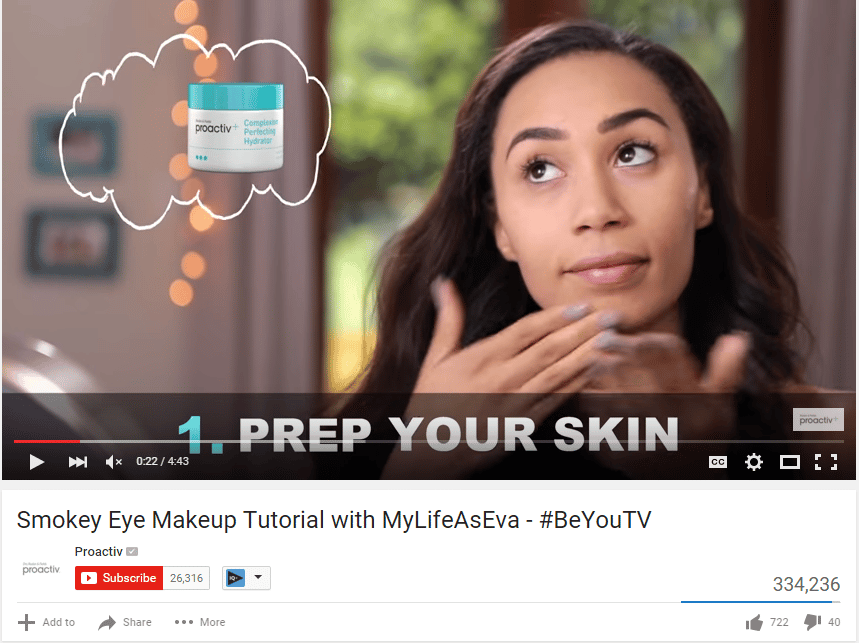 Think in terms of remarketing ads among specific segments, especially with your e-commerce efforts, as well as strategic partnerships with YouTubers relevant to your product, aligned with your company values.
For advertisers and brands, this could look like:
Sponsored product ads in video descriptions.
Paid demos of your product by YouTubers.
#Ads and #Sponsoredposts on YouTube, Instagram, and more.

However, 2017 also taught us that influencer fraud is a real thing – be sure your partnership isn't based on so-called "influencers" who are in reality composed of bots and pods doing the work for them. Be wary of who you partner within 2018 and take the time to do your research.
Last but not least, 2017 taught us to think about providing the most simple and direct experience with copywriting, with landing pages, and overall customer experience from top-of-funnel all the way to conversion.
Great copy is about simplicity; it's reader-centric and about them instead of you; it's about the benefits they'll receive after clicking your search ad instead of your company features or selling points.
Whether it's descriptions, headlines, sub-headers, text or display ads, the copy you use shouldn't be full of lexical complexity (like using the term "lexical complexity"), but be jargon-free and at the reading level of a 6th grader.
Through the analysis of all of our ads, we've learned that simple copy is the more effective copy from an actions standpoint. Use direct words like "free," "you," "get," "limited," and others that imply benefits, scarcity, and risk-aversion from engaging with your service/product.
"Save 30% Off All Sneakers THIS SUNDAY." vs. "Don't Spend An Extra 30% On Sneakers."?
Phrase #1! It's simple and direct and it focuses on the positive sentiment of saving money vs. being frugal in the second phrase.
Our search ad analysis revealed that 9/10 times the ads focusing on positive sentiments and benefits for the viewer always reigned supreme for conversion rates – the same can be said of your display ads, your landing pages, your field forms, etc.
With every touch point in your business, simplicity is best. Simply put, 2017 taught us one thing above all:
Positivity reigns supreme, especially with your customer experience.