We'd seen a lot of traction with our 11 Social Media Stats in 2021 blog and decided we'd do an updated version for 2022.
We've compiled a list of digital marketing statistics on a variety of different channels that may provide insights for your ad strategy!
Social media makes up ⅓ of all digital ad spend in 2022
So far in 2022, social media has made up 33% of global digital ad spending.
According to Smartly.io's 2022 Social Media Advertising Report, half of the B2C marketers surveyed said they plan to spend 50 – 75% of their marketing budget on social media advertising. When asked what channels, these were the top results:
Youtube is (still) the world's 2nd most popular search engine & website
In the United States, 62% of Youtube users visit the site daily.
Youtube has 2 billion logged-in users each month that consume 1 billion hours of video content daily!
It's an essential channel to target if you want to increase brand awareness. You can consider running programmatic video ads, Performance Max and Discovery Ads, which deliver ads through Youtube.
Approximately 8 out of 10 Internet users are active on at least one Meta platform every month.
Meta owns some of the most popular apps, including Facebook, Instagram, WhatsApp, and Messenger. According to Statista, 3.59 billion people use one or more Meta apps every month. That's a pretty significant proportion, as there are 4.6 billion global internet users, which makes out to be around 77% of people!
Zuckerberg's got a substantial reach and hold on us, and there's no doubt they'll be shifting the internet landscape towards Web 3.0 through the metaverse.
Searches for "Promo Code for existing user" increased 100% Year-Over-Year.
Google conducts keyword query analysis on a routine basis to better understand global trends. In June 2022, they found that people were preparing for "financial uncertainty." Google cites inflation and a potential recession as the reasons consumers look at ways to cut costs.
Out of the queries Google highlighted, one that jumped out to us the most was "promo code for existing users." The global search volume increased 100%! People were looking for discounts on services they already use, like DoorDash and other food delivery services.
There is an opportunity to nurture your existing customer base into repeat customers by occasionally offering discounts to them instead of just first-time offers for acquiring new customers.
Other keyword searches include:
"Buy 1 get 1" (increased globally 60% YOY)
"Dupe" (increased globally 40% YOY)
"How to get a mortgage" (increased globally 100% YOY)
"Credit card benefits"
"Best shares to buy today"
"Best gas mileage"
"Prices go down"
"Good time to buy"
Experts predict B2B traditional & digital ad spend in the United States will be even by 2023.
LinkedIn is the go-to social media platform for working professionals and boasts 830+ million members worldwide. In fact, 40% of them access it daily!
B2B businesses typically advertise through traditional media, like magazines, TV, newspapers, and directories. In 2018, traditional media took up 74.5% of the B2B ad spend in the United States.
However, with the COVID-19 pandemic causing a shift to remote, aka online, digital advertising has become crucial in B2B brands' marketing strategies in the past few years.
B2B advertisers turned to LinkedIn Ads to drive traffic, build awareness and generate high-quality leads. Now, the social platform has the largest share of B2B display ad spend in the United States, at 32.2% (or $5.09 billion). LinkedIn ad types include:
LinkedIn InMail
Sponsored Content
Lead Generation and more


In 2021, B2B traditional ad spend had dropped from 74.5% to 58%, and eMarketer predicts that by 2023, the two will be even.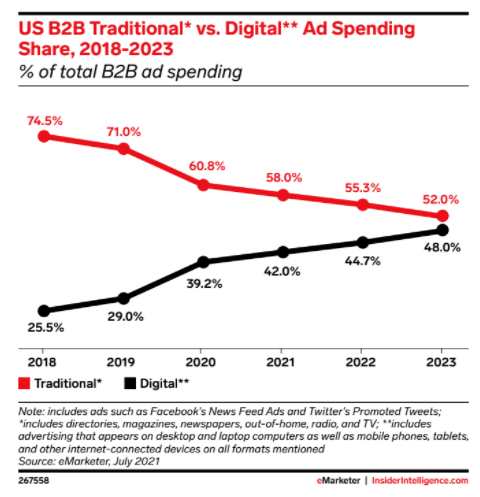 If you're a B2B advertiser, it's time to shape your digital strategy to stay competitive!
Global Digital Audio Advertising Spend Grew by 58%
Digital audio, which includes music & podcast streaming, has become very popular. Digital audio (ads) was the fastest-growing segment in digital ad spend in 2021 (grew by 58%), totaling $4.9 billion.
Spotify teamed up with Neuro-Insight to conduct a study. After comparing different forms of media (TV, social media, video, radio, etc.), they discovered that audio ads seem to activate more emotion and generate more engagement. It triggered people's long-term memory for both details and past memories.
Research showed that "93% of the brain's engagement with the content transferred directly into ad engagement as the listener moved from their music and podcasts to the ad". This led to the result of Spotify having a 19% higher brand impact than other forms of media.
Digital audio ads had higher engagement because audio streaming platforms like Spotify allows people to customize what they listen to and serve ads specifically relevant to that moment. Audio ads can be highly-personalized and interactive, and they stick with the consumers longer–what's not to love?
Men want to spend more this year by getting inspiration from Pinterest.
Our Guide to Pinterest Advertising reported that the social platform had seen unprecedented growth during the pandemic (especially in 2020). That's due to people being home, looking for baking, crafting, and more DIY projects. But in 2021, their annual user base growth had slowed to 3.1%, which means they lost about 10 million active users as pandemic lockdowns eased.
However, Pinterest is still a powerful social tool. A recent report unveiled data showing that 75% of men plan to spend more this year to "bring their goals to fruition." Compared to 2021, men are excited for 2022: they want to make (and achieve) bigger plans, which means spending more money.
In Pinterest's study, the top interest topics were:
Eating better (eating out more often)
Finding work-life balance
Socialize more (seeing more movies, hosting parties at home)
Spend more time with friends
Making big purchases (buying a new car)
The common thread is spending quality time with those they care about and making 2022 a "comeback" from the pandemic.
Pinterest is a social channel that's highly visual. Brands can actively share organic posts and run Pinterest ads to reach men at the planning stage. Brands who show up in their feed as they're planning are more likely to be top of mind. So think about your male target audience and showcase photos or videos of your latest products.
Pinterest says that personalization is the top driver for success, and men say "finding the right item is the #1 reason they have a successful shopping experience".
27% of the global online population uses voice search on mobile.
Think with Google revealed that almost 30% of people use voice search on their smartphones or tablets.
In order to rank high and show up as a voice search result, SEO is important. See our blog here on how to work towards a higher ranking.
To maximize showing up in search, you need to work on website performance to rank well organically, and running PPC ads will take up even more real estate on the search results page.
40% of internet users prefer chatbots over virtual agents.
Chatbots are artificial intelligence systems that allow consumers to connect with brands, typically by messaging, text, or sometimes even speech. Platforms like Facebook Messenger, WhatsApp, Hubspot etc. offer Chatbot options for brands to set up on their social media or website to answer customer inquiries and alleviate some workload off your customer service team's plate.
They also make customer engagement easier around the clock. Chatbots can also help with marketing, service, payment processing, and other segments. More industries will adopt chatbots, such as healthcare and retail, going forward.
Plus, chatbots collect customer data, which helps brands understand user intent better. We try to emphasize the importance of First-Party data whenever we have the chance!
SMS ads boast an open rate of 98%
Text messages don't require an internet connection. That means brands can reach any user (who properly consented to receive communications) who has a mobile phone.
Businesses in recent years have been utilizing SMS messages to run personalized ad campaigns, notify about an order's status or remind someone of an appointment. The open rate is a whopping 98%! Compare that to the average open rate for email marketing benchmark in 2022, which is 21.5%: it's a stark contrast!
In a world where people are bombarded with emails and online ads, SMS ads are a cost-effective way to cut through the noise and drive visibility with high open rates.
1.5 billion users engage with Youtube Shorts content each month.
TikTok has shot up in popularity amidst the pandemic, and vertical, short-form video has now reign supreme in how we consume social content.
Youtube wanted to stay competitive, so they introduced Youtube Shorts, their equivalent of Instagram stories in video form. The goal was to keep users on their platform, instead of straying away to TikTok.
Youtube shares that Youtube Shorts are now being watched by more than 1.5 billion logged-in users each month, and Youtube's total monthly "logged-in" audience is 2 billion.
So if your brand has video content, you might consider crossposting it on Instagram stories and Youtube Shorts to maximize exposure!
Those are some digital marketing stats we thought could clue marketers in on prevalent trends and up-and-coming ones to consider for their strategy for the rest of 2022. We hope you found it interesting!
Subscribe to our newsletter to get a weekly dose of digital marketing tips. We have you covered if you're looking for expert advertising services too.
Say hello to customized advertising strategies that convert.
Get in touch with our programmatic experts today!