Every advertiser that's running Pay-Per-Click (PPC) campaigns has contemplated the question: "Do I need to bid on my branded keywords"?
Typically, we see one of two options when it comes to brand term bidding for PPC keywords. There has been much discussion—and much written—on this topic.
(Actually, there are more than 61,500,000 Google results for "should I bid on brand keywords in Google Ads" when writing this.)
The reason for the debates are:
Those without investment in paid search tend to hesitate to spend money on traffic that could have come for "free."
Those with an investment in paid search tend to prefer the inclusion of high-converting brand terms with high-quality scores in their PPC accounts (and PPC reports).

We are here to say: yes, you most definitely should bid on your brand keywords. In this article, we share six reasons why. Read on!
Six Reasons Why You Should Bid On Branded Keywords
Here are six key points why we believe every brand that's running PPC campaigns should bid on branded keywords:
#1: If a person is typing in your branded terms in the search bar, they've likely got some familiarity with your brand and are therefore closer to a sale/conversion.
Whether they heard about you from word-of-mouth or they've already been on your site shopping around, some of their questions have been answered, and they're further into the consumer funnel than someone searching for available product or service terms. But this does not mean our job is done.
#2: You can double your visibility to searchers by showing up twice on one Search Engine Results Page (SERP).
More than likely, you're getting the top organic result for your brand, but having a paid ad listing on the first page (and probably in the top few paid positions) reinforces your presence to the searcher. Amplify Interactive posted data back in January (chart below) that showed CTRs increasing by 5.1% when a brand has an organic and paid listing instead of just an organic result.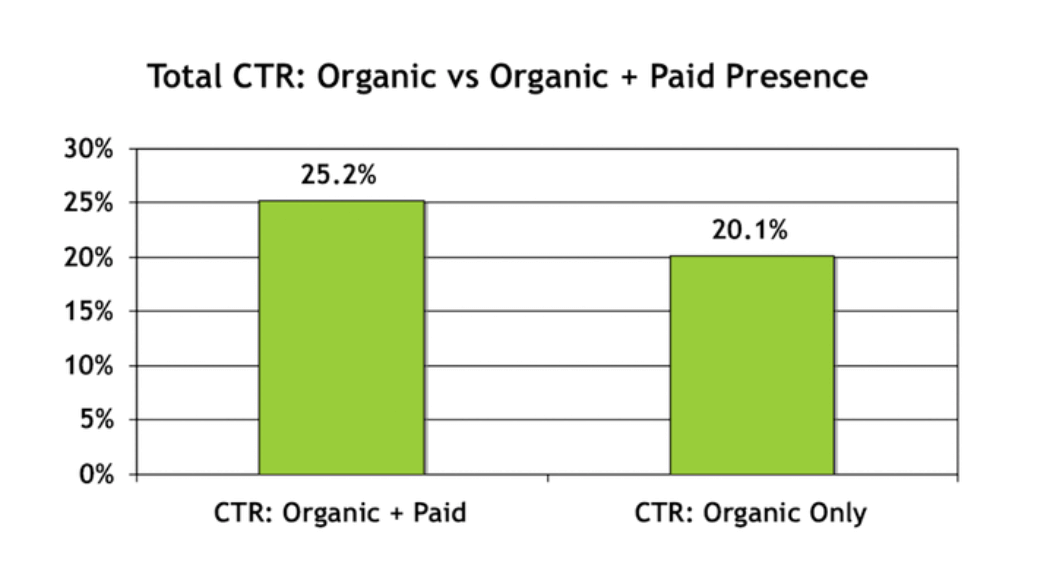 Competitors may try to bid on your branded terms to try and "steal" your traffic to show up for searchers, so this strategy is a good way to combat that and also increase clicks to your own website!
#3: Your competition is and will be bidding on your branded terms, so you need to be prepared.
While there are 
restrictions and policies
 on not allowing competitors to bid on your trademarked terms, there are ways around it. Most advertisers have a campaign dedicated to the practice. You can call and report these competitors for bidding on your terms, but that can take more time than you might think and be a bigger hassle than just bidding on the keywords yourself and doing a better job!
#4: Branded terms can help your overall account Quality Score.
Due to the high relevancy of your branded terms to your ad copy, 
landing pages
, and your entire website – your branded keywords are probably going to get the highest Quality Scores in your whole account (9's and 10's!). Simple math will tell you that adding terms with higher Quality Scores will bring up the average and offset some of your lower scored terms. The healthier an overall account score, the more likely it is that newly added terms could get some Quality Score bump right out of the gates.
#5: You can't capture all searches organically, even with the top organic result.
Some searchers prefer to click paid ads, and some who prefer organic results. Traffic received from paid ads is not replicated in organic traffic when there are no paid ads (this means fewer clicks). Even Google recommends not lowering your ad spend to zero if you are planning to reduce your paid ad spend. It's best to keep the most effective keywords (which may include your branded terms). Look at this infographic, which shows that 85% of all click traffic is lost and not replaced by organic clicks.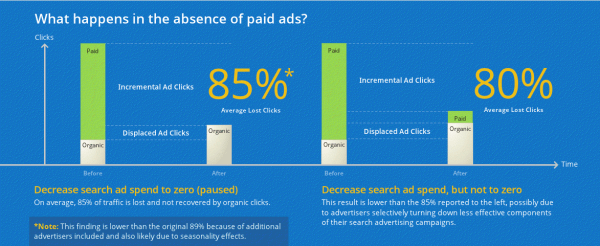 #6: Branded keywords are generally low-cost.
Keywords of your product or service, your industry might have high competition, leading to higher Cost-Per-Click (CPC). Your brand name will have low competition (unless other businesses have the same name as yours), which means lower CPC.
Conclusion + Additional Resources
In summary: We highly recommend for you to bid on brand keywords. Capture leads that a cost-effective way without having your competitors steal clicks that would have gone to your website. We believe, if you got it, flaunt it!
For additional reading, here are some pro-brand bidding arguments raised by our fellow PPCers that are compelling and insightful:
Yes, it would be best if you bid on branded terms in your PPC campaigns.
If someone is looking up your branded term online, they have higher purchase intent, which is an audience segment important to capture.
If your website's SEO is good, you're probably going to rank on the first-page organically for your branded term. Capitalize on your exposure and appear twice by also being on top of the results page with paid ads.
Your website, landing page content probably features a fair amount of your branded terms. Because the branded keywords are highly relevant to your content, your PPC Quality Score will be ranked higher!
Your competitors will be bidding on your branded terms and try to capture your clicks and leads, so you need to bid on them to be shown to your audience.
Even if you rank high organically, Google says if you don't have the bare minimum amount of paid ads running, you lose a good chunk of clicks.
Your branded terms are likely to be less competitive, which means the cost-per-click will be lower.